About Low Stump Tree Service in Park City, UT
Established in 2012, Low Stump Tree Service is the longest standing tree service company in Park City.
Our mission is to perform for our customers with professional arboricultural practices and high quality workmanship at a straightforward competitive price. We strive to create long term relationships with our clients based on their specific needs and our quality of work provided.
We Are Committed To
Customer Satisfaction
At Low Stump we take pride in staying committed to the local community we live and play in. We do this by providing educational opportunities about the trees in our unique climate for our customers every chance we get. Along with education, we are proud to leave each job cleaner than when we arrived, causing minimal impact to our communities yards and open space. Low Stump stays up to date with the latest arboriculture practices and implements them on a daily basis.
Since its founding nine years ago, Low Stump continuously has provided high-quality, effective tree tending services to the people of Summit County and Wasatch County. We have been able to do so through our repeat customers and client referrals both achieved by high rates of customer satisfaction. We hold ourselves to the highest standards on site with our attention to detail and professionalism. Here at Low Stump Tree Service, we value trust from our customers, honesty and integrity from our team, and continuous learning in the arboriculture field.
We Know Our Mountainous Area and
The Proper Care For Your Trees
Low Stump provides services specific to the customers tree care needs. Most commonly we are in the field doing tree removals or tree trimming. Tree removals can be needed for a number of reasons. These include; standing dead, hazardous to a home, encroaching on other trees that have a longer lifespan or thinning due to overcrowding. Tree trimming is needed to promote a healthy growth structure of the tree, removal of deadwood, to provide adequate spacing between trees, and clearance from a building. In both of these skills, we always look at the ecology and advise based on the benefits to the bigger picture.
The mountainous nature of the Wasatch Back is known for its high-desert climate. This creates different opportunities for care  in the tree service industry, more specifically in fire safety.  Low Stump Tree Service is knowledgeable in wildfire safety for the area and can provide correct defensible space work as a result of this knowledge. We strive to educate our clients on the importance of creating defensible space for the long term health and safety of the area.
Other Services We Offer Include:
Get To Know Our Expert Team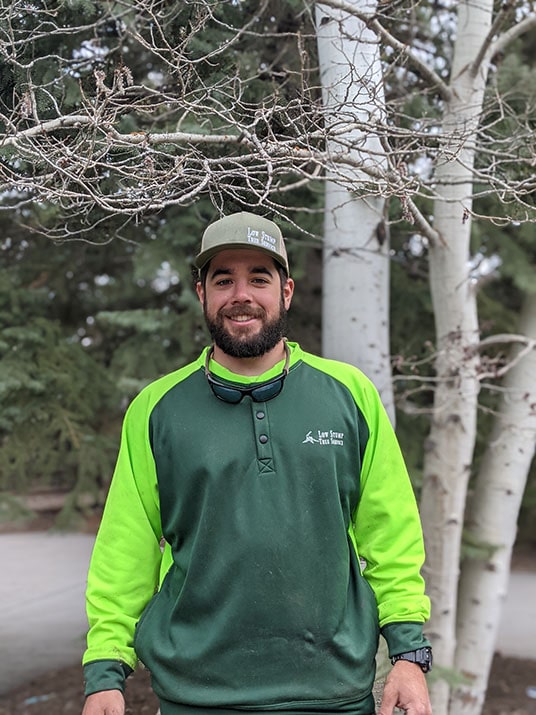 Eric Xavier

Owner Operator
Eric Xavier moved to Park City in January 2016 with a passion to explore the mountains. Like most people of the community, he fell in love with the area and decided to stay for the summer. That May, Eric joined the Low Stump Tree Service team as a groundsman. Working his way up over the next few years, Eric learned the ins and outs of the company and industry. In 2020, Eric was approached by the previous owner about taking over the business. Eric knew, along with his wife Patty, that taking ownership of Low Stump was a great opportunity as the company sets the gold standard in excellence for delivering exceptional tree services in Utah. Raised back East in Massachusetts, Eric is following in his family's footsteps as an arborist like his uncle before him. Eric is a certified arborist with the International Society of Arboriculture. He has a Bachelor of Science degree in Business and Administration from Bridgewater State University.  When Eric is not at work you can find him skiing at Canyons or in the backcountry, mountain biking, and watching his favorite hockey team, the Boston Bruins.
Patty Xavier

Managing Owner
Patty Xavier moved to Park City in November 2014 after graduating from Bentley University with a Bachelor of Science degree in Marketing. Her love for the outdoors, exploration and experiencing new places led her to the mountains of Park City. Patty quickly became interested in the high elevation desert landscape of Utah. She began pursuing work in landscape maintenance in 2016. This carved the way for Patty to discover the world of Arboriculture. In 2020 Patty, alongside her husband Eric, acquired Low Stump, the longest standing tree service company in Park City. In June of 2021 Patty became a certified arborist with the International Society of Arboriculture. Patty loves looking at the landscape as a whole and the longevity of the plants in native areas as well as in residential neighborhoods. When Patty is not at work, you can find her snowboarding or skiing, hanging out with her two dogs, mountain biking, or kicking a soccer ball around.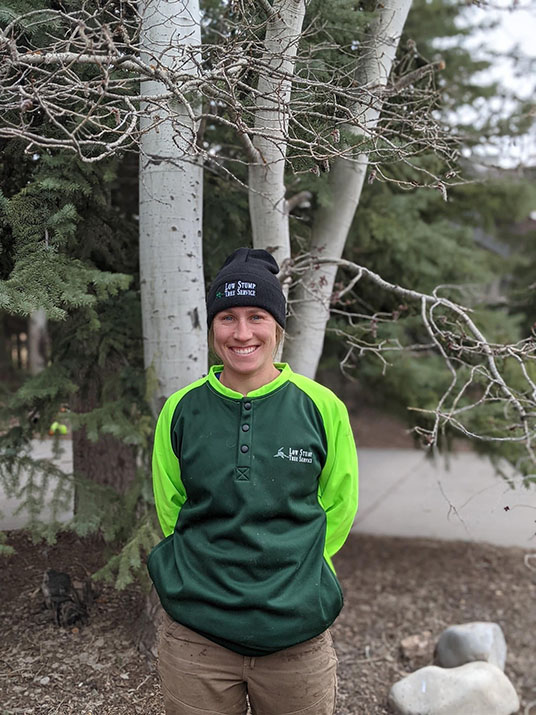 Adam Davis grew up in Maryland and moved out West to pursue his passion for the outdoors. He patrolled at Park City Mountain from 2014 to 2020. Finding a passion in snow science, he started working for the Wyoming Department of Transportation last year as an avalanche forecaster. Adam has been working for Low Stump since 2018. He is the team's lead climber for the 2021 season. When Adam is not up in a tree, you can find him mountain biking, ski touring, fly fishing or in the kitchen working on a new baked goods recipe.
Cole Valentino

Lead Groundsman
Cole grew up in New York and moved to Utah for the mountain lifestyle. He works as a patroller at Park City Mountain Resort during the winter. Cole started working at Low Stump in 2019. He is our lead groundsman as well as a climber this season. In his free time, Cole enjoys rock climbing, mountain biking and skiing.
Brent is new to the team as of 2021. He grew up in Maryland and moved to Park City in 2020 with aspirations of becoming a ski patroller. Brent works on the ground for Low Stump and is a great asset to the team.
"We Give You Your Outside Back"
Our nine-plus years of experience of the services above prove us to the most reliable and knowledgeable local tree service company in the Wasatch back.  Offering free estimates, we are happy to look at any project, no matter the size.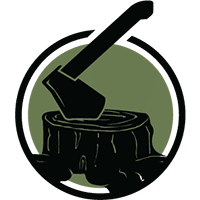 Give Low Stump Tree Service a call today

for a FREE Estimate today
Do You Have Any Tree Related Questions?
Ask an Arborist!